Gollancz  are delighted to be publishing an updated edition of Matthew De Abaitua's Arthur C. Clarke Award-shortlisted debut novel The Red Men in eBook for the first time. The release will coincide with Film4's worldwide digital release of Dr Easy, a short film based on The Red Men's opening chapter, starring Tom Hollander and the voice of Geraldine James.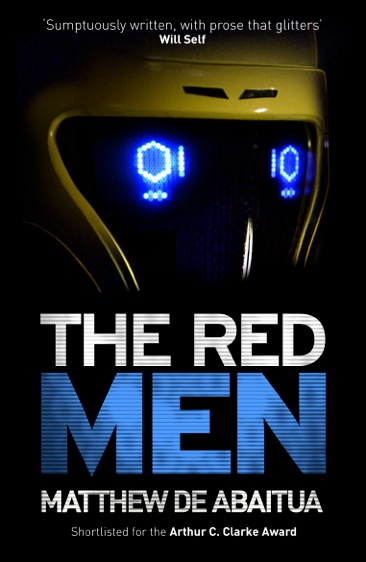 Buy the ebook from Gollancz/Orion
Buy the ebook from Amazon UK
Marcus Gipps, editor at Gollancz, has acquired the UK and Commonwealth (ex Can) digital e-book rights to Matthew De Abaitua's cult novel The Red Men from Sarah Such of Sarah Such Literary Agency, who has also recently sold The Red Men feature film rights to Warp Films, producers of This is England,Four Lions, and The Stone Roses: Made of Stone amongst many others.
Set in tomorrow's Hackney, the novel's ambitious executives and new technology satirise the modern workplace, where the Red Men of the title are an alluringly strange and prescient vision of the human cost of digital culture.
Dr Easy is written and directed by Shynola, multi-award-winning animators and directors of music videos for international bands including Coldplay, Radiohead, Beck and Blur. It is produced by Warp Films and shot by DOP Barry Ackroyd. It will premiere at Edinburgh International Film Festival 2013 the day before Film 4.0's simultaneous worldwide online release on 21st June on film4.com and Vimeo, from where it can be embedded into other sites, with both platforms promoting its release heavily as part of a sustained digital marketing campaign to reach wider audiences.  Gollancz publish The Red Men (ebook) on 13 June 2013 at an introductory price of £2.99.
Marcus Gipps says: 'We're delighted to welcome Matthew to Gollancz, and thrilled that his remarkable novel will be available in eBook for the first time. With the forthcoming release of the very exciting short film Dr Easy, this is the perfect time to rediscover Matthew's chilling vision of the near-future.'
Matthew De Abaitua says:  'It's a great honour for me that The Red Men is appearing on the Gollancz imprint. I am always inspired by their SF Masterworks list, from Theodore Sturgeon's More Than Human to Philip K Dick's Ubik. And as the novel explores the outer possibilities of digital culture, I'm very pleased that Gollancz are making The Red Men available as an eBook for the first time.'
Buy the ebook from Gollancz/Orion
Buy the ebook from Amazon UK
Follow @MDeabaitua @Gollancz @SFGateway @SHYNOLAfilms  @WarpFilms @Film4  @SarahSuch