I will be performing some of my theories and research in the areas of neuroscience and advertising at this event on February 10th at The Book Club in London.

Performing, not presenting: don't come expect brain surgery, at least not from me. That will be supplied by the experts on the rest of the bill.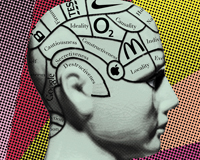 I really enjoyed my last collaboration with Bad Idea, when I riffed on short fiction submissions to sketch out my approach to world-building.
Future Human, London's New Theatre of Ideas launches at The Book Club, London, EC2A 4RH, on Wednesday February 10, 2010 with 'Advertising at the Frontiers of Consciousness'. The event starts at 7.30 pm and entrance is £8.